You already carry a powerful computer in your pocket! But the lack of a physical keyboard makes it more of a media consumption rather than a productivity machine. The software is all there , though. Office, Drive, photo editing apps…even terminals and programming environments.
Most bluetooth keyboards are cramped and uncomfortable to use for long sessions. But, if you can find a clamshell keyboard case for tablets, you can adapt it for your phone. Use these instructions at your own risk!
I found an iPad Mini BT keyboard with a weighted bottom on clearance. With the velcro pads on the lid, I was already using it for a small tablet, when I realized I can also use it for my phone!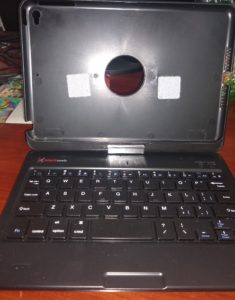 I bought a cheap case for my phone and added Velcro on the back.
You see where this is going….I used the phone to take pictures so I don't have a picture of the complete assembly.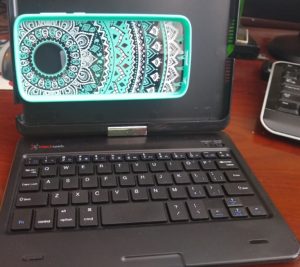 Note the phone's ports are accessible so it can be charged.
About Post Author